(Scroll down for German)
YOLO – you only live once! This was not only the word of the day (presented by Nancy) in our first online meeting. It should be our motto in general, and especially in these crazy times. Necessity is the mother of invention! How do you host a Toastmasters meeting in times when people are asked to stay at home instead of meeting in person? You organize an online meeting!
Everyone on time
The first online meeting of Hamburg International Speakers on March 18th, 2020 was an interesting and exciting experience for all! While many of our members tend to come at the last minute (or even later……) during the on-site meeting, surprisingly this time everyone was there well ahead of time! It was just too exciting to go into the virtual space and play with the unknown technology, trying out the different views, virtual backgrounds, etc.. In the introduction everybody presented their personal way of "clapping", a way of moving their hands and giving a signal of applause without making noise, since during the session all members, except the speaker, are muted. Franzi, our Toastmaster of the evening, reminded us that famous writers such as Shakespeare and Boccaccio also faced crises in their careers, as they both lived and worked during great plague epidemics. But they did not have the Internet!
In the first part of the evening we heard, as usual, three prepared speeches. Our President, Laura, expressed her frustration at what the virus is doing to her personal situation right now: It thwarts her plans to have her wedding party on the very day that she and her partner celebrate their 10th anniversary. Using visual aids, she explained the scientific approach to the topic: What happens in our brain when strong emotions hit us? In the second speech of the evening Markus told us a very personal story about a friendship which he eventually had to let got when he realized that values didn't fit. And finally, Ruth invited us to a virtual tour through the "beautiful Lueneburg".
Love is in the air
Love was in the air, even through virtual channels, when Marlen guided us through her table topics session. The evaluation part rounded off the meeting as usual. Olaf's final verdict was positive: a smooth meeting with 18 people in one room and no interruptions! And Franzi concluded that "Boccaccio and Shakespeare would have been jealous".
For the time being, until further notice, we will continue with the online meetings. The next one will take place on March 25th, 7 p.m. Will you be joining?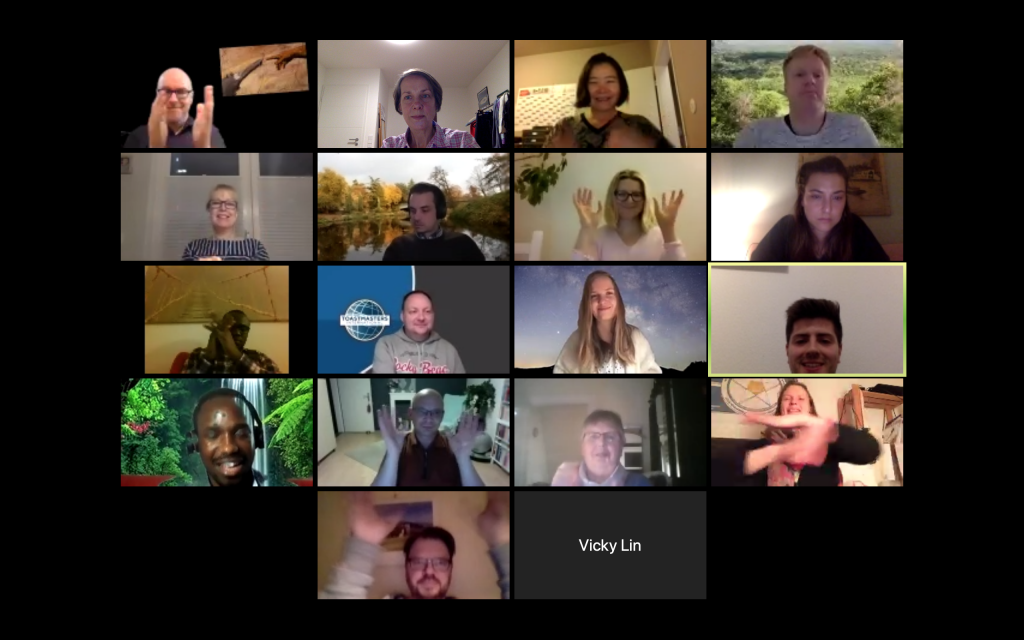 YOLO – you only live once (man lebt nur einmal)! Das war nicht nur das Wort des Tages (vorgestellt von Nancy) bei unserem ersten Online-Treffen. Es sollte unser Motto im Allgemeinen sein, und besonders in diesen verrückten Zeiten. Not macht erfinderisch! Wie veranstaltet man ein Toastmasters-Treffen in Zeiten, in denen die Leute gebeten werden, zu Hause zu bleiben, anstatt sich persönlich zu treffen? Sie organisieren ein Online-Treffen!
Pünktliche Mitglieder
Das erste Online-Treffen der Hamburg International Speakers am 18. März 2020 war für alle eine interessante und aufregende Erfahrung! Während viele unserer Mitglieder beim Treffen vor Ort dazu neigen, in letzter Minute (oder sogar später…..) zu kommen, waren überraschenderweise dieses Mal alle schon wesentlich vor der Zeit da! Es war einfach zu aufregend, sich in den virtuellen Raum zu begeben und mit der unbekannten Technologie zu spielen, die verschiedenen Ansichten, virtuellen Hintergründe usw. auszuprobieren. In der Einleitung stellte jeder seine persönliche Art des "Klatschens" vor, eine Art, die Hände zu bewegen und ein Applaus-Signal zu geben, ohne Lärm zu machen, da während der Sitzung alle Mitglieder, außer dem/der Sprechenden, stumm geschaltet sind. Franzi, unsere Toastmasterin des Abends, erinnerte uns daran, dass auch berühmte Schriftsteller wie Shakespeare und Boccaccio in ihrer Karriere mit Epidemien konfrontiert waren, da sie beide während großer Pest-Seuchen lebten und arbeiteten. Aber sie hatten noch kein Internet!
Im ersten Teil des Abends hörten wir, wie üblich, drei vorbereitete Reden. Unsere Präsidentin Laura drückte ihren Frust darüber aus, was das Virus in ihrer persönlichen Situation gerade jetzt anrichtet: Es durchkreuzt ihre Pläne, ihre Hochzeit genau an dem Tag zu feiern, an dem sie und ihr Partner ihr zehnjähriges Jubiläum haben. Mit visuellen Hilfsmitteln erklärte sie uns den wissenschaftlichen Zugang zu dem Thema: Was passiert in unserem Gehirn, wenn uns starke Emotionen treffen? In der zweiten Rede des Abends erzählte uns Markus eine sehr persönliche Geschichte über eine Freundschaft, die er schließlich beendete, weil er einsehen musste, dass die Wertvorstellungen einfach zu sehr auseinandergingen. Und schließlich lud Ruth uns zu einem virtuellen Rundgang durch das "schöne Lüneburg" ein.
Shakespeare wäre neidisch gewesen
Liebe lag in der Luft, sogar über virtuelle Kanäle, als Marlen uns durch die Stegreifreden führte. Der Bewertungsteil rundete das Treffen wie üblich ab. Als General Evaluator zog Olaf am Ende eine positive Bilanz: ein reibungsloses Treffen mit 18 Personen in einem Raum und ohne Unterbrechungen! Und Franzi kam zu dem Schluss, dass "Boccaccio und Shakespeare neidisch gewesen wären".
Bis auf weiteres werden wir mit den Online-Treffen fortfahren. Das nächste findet am 25. März um 19 Uhr statt. Bist Du dabei?